PEDESTRIANS FOR ACCESSIBLE AND SAFE STREETS COALITION HOLD "ZERO VISION FOR VISION ZERO" SIMULATION
Orientation and Mobility Instructors Blindfolded City Council Members
to Teach the Importance of Pedestrian Safety Tools for the Blind
New York, N.Y. (October 23, 2014) - This morning Transportation Committee Chairman Ydanis Rodriguez, jointly with Council Member Mark Levine, prime sponsor of Intro 216, and the Pedestrians for Accessible and Safe Streets (PASS) Coalition, presented a simulation and demonstration session for New York City Council members. The event was held to inform Council members of the real difficulties blind and visually impaired people face on our streets every day. This was in anticipation of a Transportation Committee hearing on Intro 216, a bill that would increase the number of Accessible Pedestrian Signals or APS installations around the city from 25 to 175 per year beginning in 2015.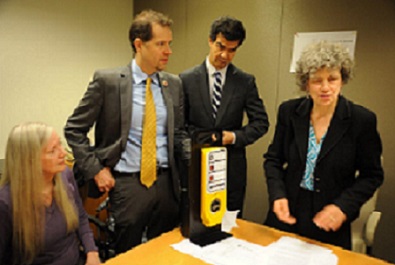 Members were blindfolded and accompanied by an instructor to aid and inform them of the typical difficulties a visually impaired individual faces each day. By experiencing life with zero vision, council members and staff were able to understand how difficult it is for visually impaired people to navigate our bustling roadways.
After the street simulation PASS members presented a demonstration of an APS to show how it works and how, whenever there is a Leading Pedestrian Interval or LPI, the APS gives the blind person the same safe head start that the LPI gives the sighted pedestrian.
"One tries to imagine what it is like for a visually impaired individual and the difficulties they face, but not until today did I realize how simple things, like the direction of the sidewalk ramp, can truly impact the way the visually impaired use our streets." said Committee Chairman Rodriguez. "We must dedicate ourselves to making our city's infrastructure easily navigable for all citizens and we can start by installing APS signals throughout."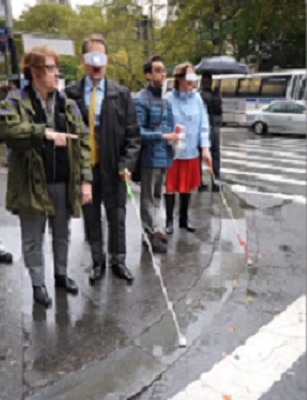 "I had a real feeling of vulnerability and even fear crossing a street blindfolded in the midest of traffic. After today's simulation I have a new found respect for the bravery of visually impaired New Yorkers and I am more determined than ever to make them safer through passage of Intro 216," said Council Member Mark Levine.
"Everyone needs to know when the WALK sign is on in this busy and very fast city. APS's are our WALK signs. Intro 216A is a huge step toward assuring that we have the 'WALK signs' where we need them" said Karen Gourgey, Chairperson of PASS. "PASS is very pleased that Councilmen Rodriguez and Levine are taking the time to learn about this very critical issue and to support it."
The PASS Coalition is encouraging city residents across the boroughs to reach out to their City Council representatives and help support the approval of the Intro 216 bill for the visually impaired. PASS is asking city residents to contact them as well, to recommend intersections that may need an APS, or if they have questions or problems with an APS currently installed in their neighborhood. The Transportation Committee hearing for the bill will take place at the City Council Chambers this Wednesday, October 29 at 1:00 pm.
About PASS Coalition
The Pedestrians for Accessible and Safe Streets (PASS) Coalition was founded by eleven organizations that represent people from across the disability spectrum, most of which focus on the needs of blind and visually impaired people in New York City. PASS works to ensure that blind, visually impaired, and deaf-blind individuals have full access to the streets and sidewalks of New York City and the surrounding boroughs, whether they are residents or visitors to the city. PASS works with stakeholders, local and state legislators, officials, and departments  to create safe streets for everyone. PASS now comprises more than 20 state and citywide organizations, including ones that work specifically with blind, visually impaired, and deaf-blind New York residents and visitors. The Coalition also includes organizations whose interests lie in ensuring a safer New York for all pedestrians.
For more information about the PASS Coalition or if you wish to request an APS be installed at an intersection in a specific location in your area, please visit www.passcoalition.org.
Media Contact: Adrienne Jacoby
(757)778-2326
adrienne.b.jacoby@gmail.com