Pedestrians for Accessible and Safe Streets
PASS's mission: to work to ensure that blind, visually impaired, and deaf-blind individuals have full access to our city's streets and sidewalks. Our goal is to work closely with other stakeholders interested in pedestrian safety, and New York City and State legislators, officials, and departments to create safe streets for everyone in New York City.
Meet Our New Chairperson: Karen Gourgey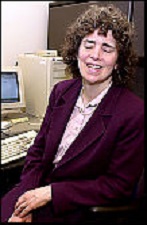 Karen Gourgey, Ed.D. directed the Computer Center for Visually Impaired People at Baruch College for 35 years. She transformed the Center from a training vehicle for programmers to a place where blind and low-vision individuals could acquire computer literacy as well as more advanced skills.
In 1987 Dr. Gourgey served on Governor Cuomo's Task Force on Computers and Assistive Technology and was one of a team of writers for its report.
In 2010, she became a founding member of Pedestrians for Accessible and Safe Streets, (PASS) and became its founding co-Chair with Raymond Wayne. Now, in December 2021, she is returning as Chair to help the PASS Coalition enter what promises to be a new era for an accessible New York City.
Landmark Decision
on Accessible Pedestrian Signals
In a great victory for blind and visually impaired pedestrians, a federal judge has ordered the widespread installation of Accessible Pedestrian Signals in New York City. Read the New York Times article here.
Accessible Pedestrian Signals
An Accessible Pedestrian Signal or APS is a device usually mounted on a pole near a crosswalk and which gives information about pedestrian signals in nonvisual formats such as audible tones, verbal messages, and vibrating surfaces. The primary purpose of an APS is to let pedestrians with vision or hearing loss know that the WALK signal is on for a particular crosswalk.
In New York City visually impaired pedestrians can find an APS by listening for the locator tone, a slow regular tick emitted by the device, as they approach a corner. One activates the APS by pushing the large button. When the WALK signal turns on, this APS button will begin to vibrate for pedestrians who are deaf or hard of hearing, and the device will also emit a clear rapid ticking sound or a spoken message that announces the street name and that the WALK signal is on. The vibration and sound stop when the WALK signal turns off. Click this sentence to see an APS.
For detailed information about APS, see Accessible Pedestrian Signals: A Guide to Best Practices.
Check this link for accessible pedestrian signal locations in New York City.
Click this sentence to find out what accessible pedestrian signals sound like.